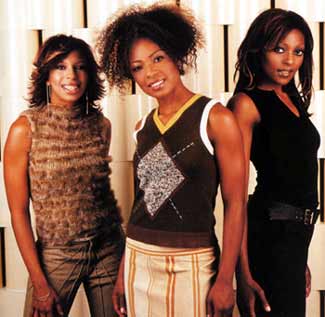 WHERE MY SOLDIERS??? Right here!!
Ok, you may have thought that was totally wacky, but that was probably the first Out Of Eden song I heard, and I really liked it. Out Of Eden was a popular Christian R&B group around the mid 2000's. How good were they? Let's find out.
Out Of Eden was band of sisters,
Lisa Kimmey, Andrea Kimmey-Baca and Danielle Kimmey. They started out by singing backup vocals for their Mother, who played classical piano on the side. Their stepfather unsuccessfully tried to get them signed by sending video tapes of the girls singing to record labels. But...that's where things get interesting.
Some guy named Toby McKeehan found out about them. He loved their sound, and created a record label for them in order to produce their music. What label was that? Gotee Records! That is definitely impressive.
Out of Eden put out 7 records during their 12 year career. Their first album, "Lovin' The Day", catapulted the sisters into the music industry, and was well received. Their second album released in 1996, "More Than You Know" cemented their status in the CCM industry. The real success came with their fourth album, "This Is Your Life". Released in 2002, this album tied for "Urban Album Of The Year" Dove Award in 2003, "Meditate", a single from the album, won "Urban Recorded Song Of The Year". This album was also nominated for a Stellar Award. Two years went past, and they released my favorite album from them, "Love, Peace, and Happiness". The album and it's contents were nominated for two Dove Awards, but sadly, did not win. "Soldiers" was on this album, and that was the song I mentioned above. Their next to last album was "Hymns", and featured renditions of Church favorites. Their last album was a greatest hits album, released in 2006, entitled, "The Hits".
The group announced they were disbanding in 2006. I can't find any information why, but I'm sure they needed a break!
Out Of Eden was a very successful group. Gotee Records was created because of them, their music was enjoyed by many, and they had a successful career. So if you happen to see "Love, Peace, and Happiness" in your Christian bookstore or on iTunes, snatch it up! It's a fun record with some great lyrics!
Be sure to check out next week's Throwback Thursday. I have a very....shall we say....interesting band for you guys.