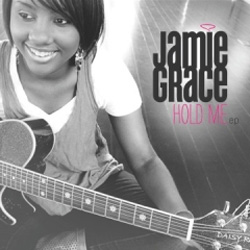 A while ago, I heard about a girl named Jamie Grace. She toured with the popular tween-geared iShine Live tour, as well as performing on iShine Kinect. She has an amazing musical style, and a great sense of humor! Recently, she broke away from the iShine artist circle, and was signed by tobyMac to Gotee Records. Her debut EP came out today! I couldn't wait to get my hands on this. How does it measure up? Let's find out!
Jamie Grace begins the EP with a great track, called "Hold Me", featuring TobyMac himself. It's a fun, acoustic track, reminiscent of Britt Nicole. When I first heard the song, I thought maybe it was a love song, but Jamie Grace quickly puts to rest any doubts this about some guy. "Lord I love the way you hold me" speaks of the love God has for us, and how thankful she is for that love. This was a great opener, and Jamie Grace's vocals really shine on this song.
"One Song at a Time" comes up second, and immediately you get a fun, funky beat with a neat keyboard intro. All about having fun "One Song at a Time", is one of those songs you can imagine playing at a party, or simply riding in your car. Jamie Grace has a signature sound, with a new twist on acoustic pop.This song features GabeReal from Diverse City! His cameo fits perfectly, and is the perfect complement to this track.
Next we have a slower track, called "Holding On". A beautiful piano intro plays as Jamie Grace sings of holding onto God as she faces life. This is such a beautiful track. Jamie Grace has a beautiful voice, and a great range, which this song takes advantage of. I love the message of this song, as it encourages us to hold on to God, no matter what comes our way.
Last on the EP is the dc Talk cover, "Into Jesus". I loved this track! With a simple acoustic guitar and a great beat, it does the original more than justice. Jamie Grace is the perfect artist for this song. I found myself singing along in no time! I'm glad she chose this song to cover, and dc Talk fans will not be disappointed.
Overall, this is a strong debut from former iShine artist, Jamie Grace. Filled with fun, acoustic pop music and beautiful vocals from Jamie Grace, this EP is a worthy addition for anyone! Fans of Britt Nicole, Shawn McDonald, Lanae Hale and Charmaine will definitely enjoy this album.
Rating: 5/5 stars.